Rocal Habit 100 + T
£3,900
The Rocal Habit 100 wood burning stove takes the powerful ARC cassette, encases it in a sleek black steel casing and allows it to be installed outside of the wall as a freestanding stove. It still has the same combustion chamber as the ARC, and still gives the same 11kW output and low emissions but the Habit allows you to place this stove anywhere in your home. Like the ARC, the Habit 100 has built in convection fans to push the convected heat out into your room, heating larger spaces faster and more effectively than natural convection alone. As the Habit is a freestanding model it does not have warm air ducting, so all of the convected heat is pushed back into the room, making the Habit a powerful heating machine.
The Habit 100 wood stove is very clean burning with pre-heated air-wash, clean-burn and tertiary safety air for optimum combustion. There is also an external air inlet included allowing you to pull all of the combustion air required from outside of the room, often negating the need for additional room ventilation. The Habit 100 has a reversible door, meaning you can hinge it from either the left or right. The Habit 100 is available as a freestanding cube stove (this version) which can be fitted directly onto a hearth, or lifted off the floor and fitted onto a Rocal stove bench (sold separately) for an even more modern look. Alternatively you can buy the 100 with a dedicated log-store base, or with a wall mounted bracket to lift the stove off the floor and place it directly against a non-combustible wall. Whichever option you choose, your home will be happy to have a Rocal Habit heating it.
Features 
Reversible front door
Steel combustion chamber
Vermiculite inner lining
Wraparound casing in 6mm steel
Optional external air inlet
Preheated primary and secondary air
Tertiary or security air
Ash pan removal from the front
Double deflector, top deflector with two-position adjustable flow
Option ECOntrol automatic combustion control
Two or four fan units with two automatic speed settings and one manual.
*Can be supplied without fan units on request*
Optional Extras
Wood store
Wall mounting Kit
Bench Unit
This appliance also comes with a variety of different options and fittings. Please contact us to discuss which accessories you would require.
Technical Elevation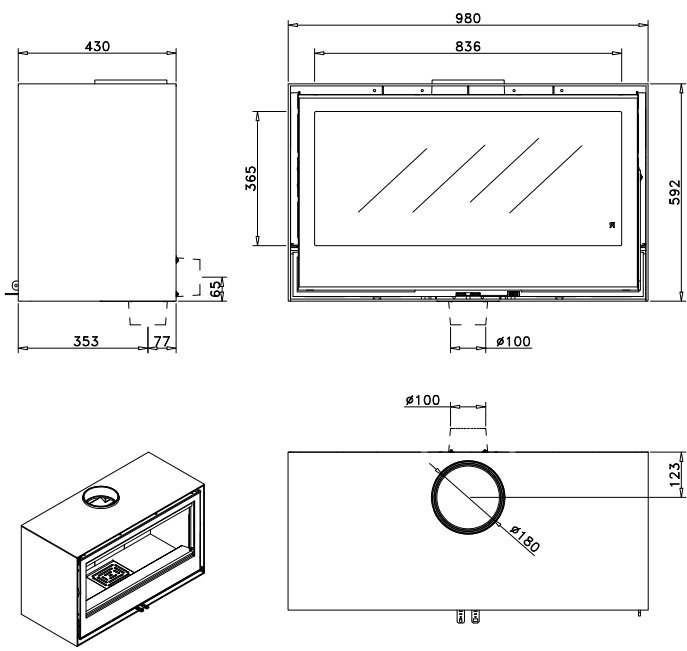 Product Specifications
The specifications below are based on the . Other variants will vary!
Please contact us for further information.
Efficiency at Nominal output
79.57%
Base
Log Store, Wall mounted, Bench unit